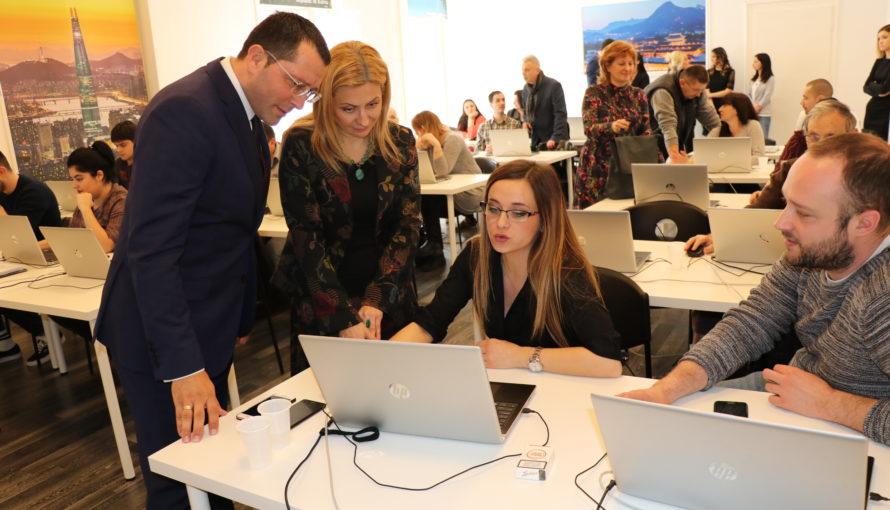 On the occasion of the International Women's Day, in the Serbia-Korea IT Center, a large Wikimedia editorial marathon was organised. Thirty-five new articles about famous women from Serbia, who left a permanent mark on science, culture, art and information have been written and posted on Wikipedia, the world's largest online encyclopedia.
State Secretary at the Ministry of Public Administration and Local Self-Government, Bojan Stević, wished happy holiday to all the women of Serbia. He stated the fact that in this ministry there are 125 employed ladies in comparison to a small number of employed men.
– "Every day, they take part in the policy-making and contribute to the development of society, and for each one of our success they are the ones who we should be thanking for," Stević said.
He also stated that, in the context of gender equality, it is very important to support a global initiative to increase the visibility of the content on women on the Internet.
– I hope that by enriching the Internet content with the biographies of women from Serbia, who have achieved great results in the areas in which UNESCO operates, their role and importance will strengthen and contribute to the improvement of the position of all women, said Stević.
Welcoming the great idea, deputy Minister of the of MDULS' Sector for Human and Minority Rights, Ivana Antić, emphasised the importance of today's holiday.
– International Women's Day is just another opportunity to remember all those brave and persistent women who have won many of the rights we have today. We must propagate a policy of gender equality every day – said Antić.
Deputy Minister of the Ministry of Labour, Employment, Veteran and Social Policy from the Sector for Anti-Discrimination Policy and Improvement of Gender Equality, Nina Mitić, recalled the start of the project and expressed satisfaction with the Ministry being an active participant since the beginning. She pointed out that the selection of candidates, whose biographies would be displayed on the Internet, was not easy.
– I wish that all women in Serbia enjoy not only gender equality but also attention, every day. It would be nice if all women, mothers, wives and sisters got the attention every day, not just on this holiday because the woman is the driving force of power and life – said Mitić.
Wikimedia's  Ivana Madžarević thanked all the gathered volunteers and editors for being engaged. She emphasized that a similar editorial marathon is being held in Paris at the same moment, too.
– "I hope this work will be recognized globally," she stated.
The State Secretary of the Ministry of Labour, Employment, Veteran and Social Policy , Zoran Antić, also wished the happy holiday to all the ladies.