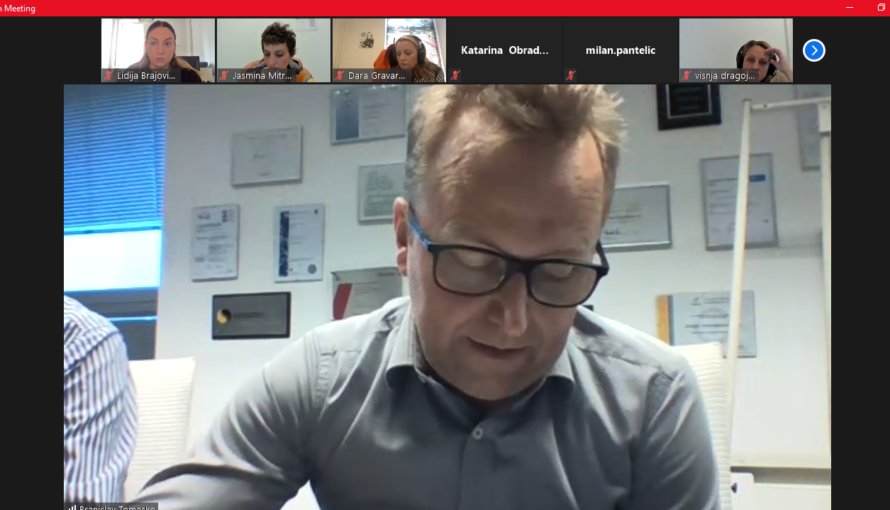 Representatives of the Ministry of Public Administration and Local Self-Government attended an online workshop held as part of the project "The knowledge transfer in the field of digitalization of public administration in the Western Balkan countries" implemented by the Partnership for Prosperity NGO in Slovakia with the support of MPALSG and SlovakAid. The workshop exchanged rich experiences, knowledge and good practices of the Slovak Republic and the Republic of Serbia in the field of e-government system development and provision of services to citizens, businesses and organizations.
The most important topics of the workshop were: providing e-services and efficient implementation of solutions for establishing one stop shops, analysis of the current situation and conditions for establishing one stop shops in our country, and presented key elements of implementing the Slovak solution for construction of the Register of Citizens (RFO), as well as the Central Population Register in Serbia.
Slovak Republic implemented 79 one stop shops form 2016-2020, i.e. public client services. Despite the development of electronic services, this country plans to continue investing in the development of physical one-stop shop systems so that public services are evenly accessible and accessible under equal conditions.
In order to develop a user-oriented and efficient administration that will serve as a true service to citizens, with the support of the Ministry of Public Administration and Local Self-Government throughout Serbia, one stop shops are being developed. Residents of Lazarevac, Sombor, Smederevska Palanka, Sabac, Bela Palanka, Zitiste, Gornji Milanovac, Krusevac, Uzice and Vlasotince now have the opportunity to finish "all the business they have with the state" at once at the same place. A total of ten municipalities in the RS have so far implemented one stop shops.